From the XR4C Fellow: First G4C Festival
August 5, 2019 / by Noelle Mazurek
By nature of the medium, extended reality (XR) content is all about perspective. People's perspectives change when they experience circumstances firsthand, and through XR systems we can embrace a different method of storytelling to gain new insights, expand on acquired knowledge, and better understand others. XR as a medium continues to rapidly advance, and content creators are trailblazing the industry's development.
At the same time, we must also carefully consider the industry's direction, and different communities must come together to inspire and motivate that conversation. Games for Change operates at the nexus of both technology and social impact – it encourages meaningful creation and inspires developers to actively reflect on how their work can shape the world for the better. This year, I attended my first Games for Change Festival and reflected on the most important component in effective immersive media.
But First, A Bit About Me
Immersive media has driven my career, even before joining the Games for Change team. My internship with the Tribeca Film Festival in 2017 involved collaborating directly with the program managers as a production assistant and working on-site during the duration of the festival. I return to the festival team every year, and I have worked with so many moving experiences, such as The Day the World Changed by Gabo Arora and Saschka Unseld, SPHERES by Eliza McNitt, and The Key by Celine Tricart in partnership with Oculus VR for Good. Meanwhile, my passion for games guided my academic career, and I graduated with honors from the BFA Game Design program at NYU's Tisch School of the Arts in 2018.
In 2017, XR for Change was launched to develop a community of individuals who want to use immersive media to drive social impact. As the XR for Change Fellow, I have been developing and maintaining many of the XR initiatives throughout Games for Change. Through my mentorship with Games for Change, I've been able to refine my experience with curation, event production, community building, and research analysis. Every day with the Games for Change team is a day of advancement and growth, which continues to drive my ongoing career. However, I am currently most proud of coordinating with the festival production team to make the Immersive Arcade at the 2019 XR for Change Summit a reality.
XR4C Immersive Arcade
The XR for Change Summit's Immersive Arcade had projects and experiences from this year's most influential immersive content creators. I was already acquainted with many of the experiences shown at the arcade, and it was exciting to view such well-known projects through the frame of social impact. It was also so great to see familiar colleagues and friends.
I experienced Queerskins: a love story for the second time at the XR for Change Summit this year, the first time at the Tribeca Film Festival in 2018. Ed and Mary-Helen, husband and wife, drive along a quiet road, and I am in the back seat, physically caught between a heavy, uncomfortable silence. To my left is a box of belongings, archives of a young man lost to AIDS, their son Sebastian. The car radio begins to play, and I am entangled in the tension.
As I pick up each object, Mary-Helen reflects on moments with her son and is met with emotionally charged resistance by Ed. Being devout Catholics who cut Sebastian out of their lives, they are both conflicted and torn about his death. "He was a disgrace" Ed says as I stare out through the window of the car. And without spoiling the experience for those who have not seen it, the experience brings me to tears when they finally reach their destination.
Unlike traditional media, immersive media actively encourages its audience to experience the world, rather than simply viewing it from the frame. In short, the empathetic nature of XR is what makes it different from all other forms of media. Immersive storytelling is meaningful in this way — we share these stories via a personal perspective that only immersive media's emerging technologies can capture.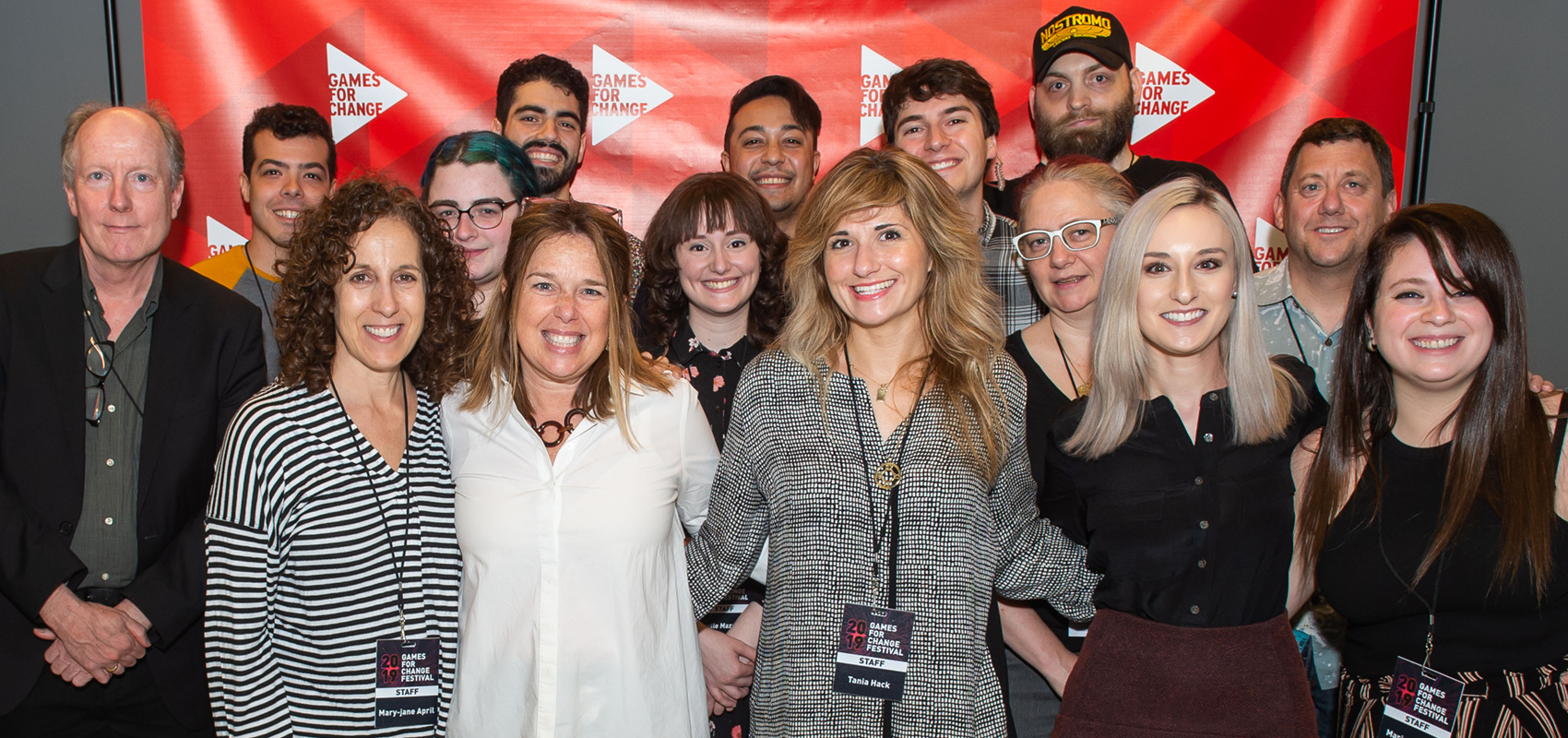 The Games for Change Community
What makes Games for Change so special to me is its empathetic community. When I attended the Games for Change Festival, I watched so many people find common ground in the desire to ignite social change through the media we produce. Games for Change fosters these relationships, allowing people to meet like-minded colleagues and form new connections in their network.
Part of my journey at Games for Change is exploring how future XR development can advance avenues of social impact. Being exposed to such impactful immersive stories at Tribeca inspired me to take action and apply for the XR for Change Fellowship.
Now I am an emerging young voice who seeks to inspire action in this rising medium, and my time with Games for Change is making all the difference.
– Noelle Mazurek