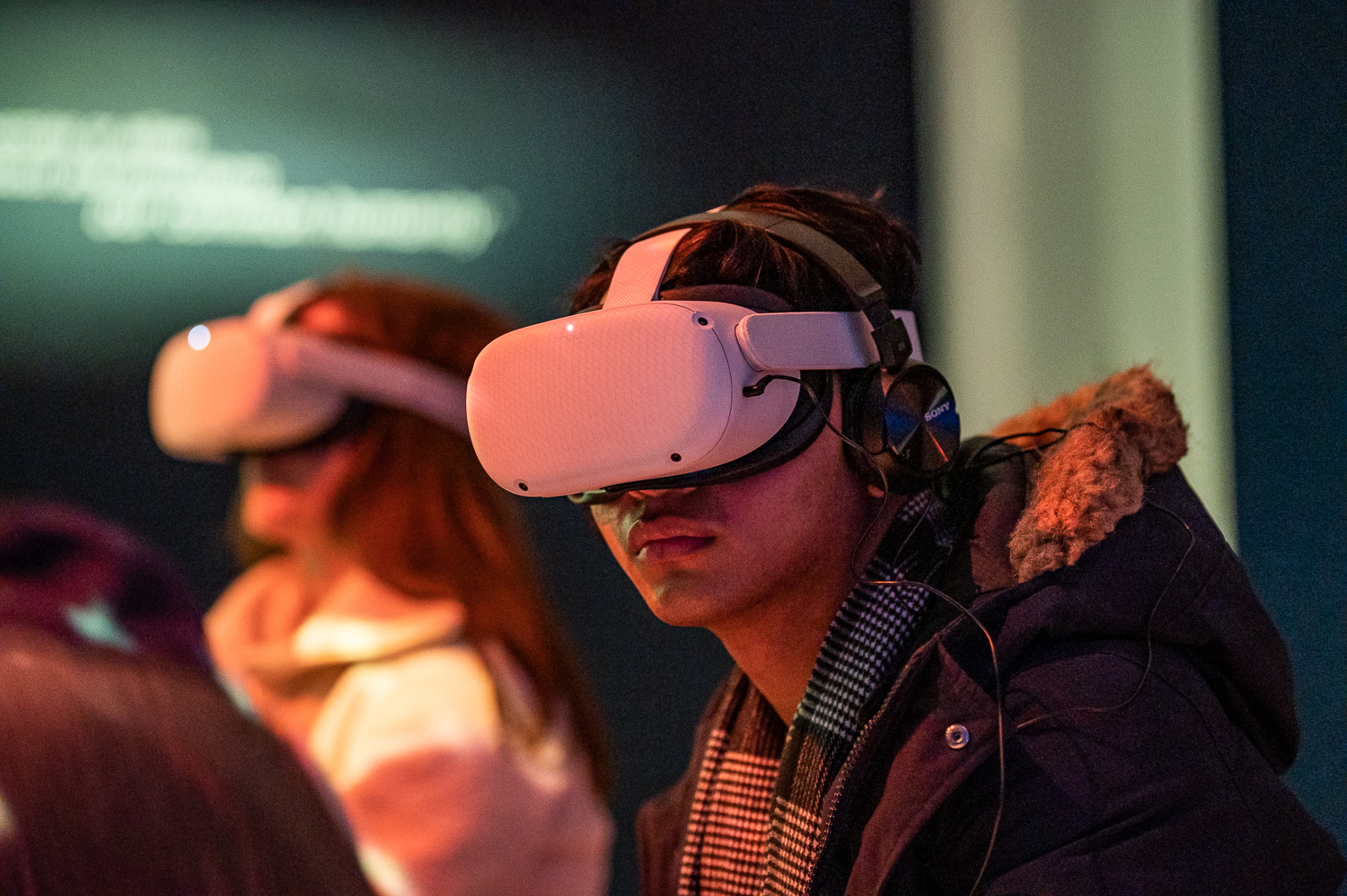 XR for Change
Games for Change launched XR for Change (XR4C) in 2017 to develop a community of practice using immersive media to address real-world challenges, create empathy, and drive social change. The initiative seeks to encourage dialogue; foster collaboration between content creators, industry, and cause-based organizations; advance equity and inclusion; and inspire creative use of emerging technologies for social impact. Select programs highlighted below demonstrate XR4C's far reach and breadth of industry building activity, ranging from executive production to research and events.

Extended Reality (XR) is an umbrella term that covers all the various forms of computer-altered reality, including Augmented Reality (AR), Mixed Reality (MR), and Virtual Reality (VR). There is a wide range of practical applications for XR technologies invested in social impact — particularly in education, healthcare, and workforce development.
Industry Focused Events
To connect the power of XR technology with real-world impact, learning, and audience engagement, XR4C offers convenings and demo opportunities for XR developers, creatives and storytellers that allow them to connect with subject matter experts, funders, and researchers interested in the potential of XR technologies for impact.
XR for Change Summit
Each year, the day-long summit brings together more than 1000 participants — developers, storytellers, technologists, researchers, policy makers, and others from journalism, healthcare, and education.
Combining talks, panels, networking opportunities and demos, summit attendees learn about and experience emerging projects using VR, AR, MR and more, and discuss charting the path forward for the future of these emerging technologies for social good.
XR Brain Jam
The XR Brain Jam, developed by Games for Change in collaboration with the Entertainment Technology Center at Carnegie Mellon University, pairs domain experts with XR game developers, and charges them with exploring the intersection of their fields together.
Teams collaborate over a multi-day jam to learn, discuss, explore, and create experiences that tackle questions that can improve the way we live and see the world. Developers interested in creating XR experiences that drive meaningful impact are paired with domain experts focused on addressing a specific issue (medical, environmental, education, etc).
During the jam, teams develop a working prototype of their concept. Then teams are invited to share their work with a curated panel of experts. These experts are chosen from a variety of fields to give teams maximum value feedback, including funding, design, distribution, marketing, and development. The culmination of the XR4C Brain Jam is the opportunity for each team to showcase their XR prototype during the Games for Change Festival.
XR for Change Talk & Play
Talk and Plays are a series of events that combine panel presentations and Q&A sessions with leading XR creators with opportunities to experience cutting-edge immersive media firsthand along with casual networking. Talk and Play events are accessible throughout the year, both online and in person and are opportunities for the public community to engage with XR creators and changemakers in the sector. By bringing together diverse stakeholders and public audiences, these events help forge cross-sector alliances that can further social change.
Recent XR4C Talk & Plays:
Industry Resources
To provide support for the growing XR and impact sector, XR4C works with creators, impact partners, and researchers to publish best practices and research papers which are then the basis of workshops and a consulting practice.
XR Research & Best Practices
The ability to measure tech and impact relies heavily on research. Fueled by curiosity and a desire to encourage multidisciplinary forms of learning, engagement, and impact, XR4C publishes research reports and best practices for the wider XR industry to utilize.
Recent Research and Best Practices:
XR Impact Campaigns & Arcades
XR4C works to bring XR impact projects to audiences all over the world through bespoke impact campaigns and arcades. XR4C leverages venues like universities, high schools, and museums to screen XR experiences with a social impact focus. Using their network of subject matter experts and in-house curriculum experts, XR4C also supports impact campaigns by creating wrap-around materials and curriculum in order to unlock deeper audience engagement and learning.
Latest Impact Campaigns & Arcades: