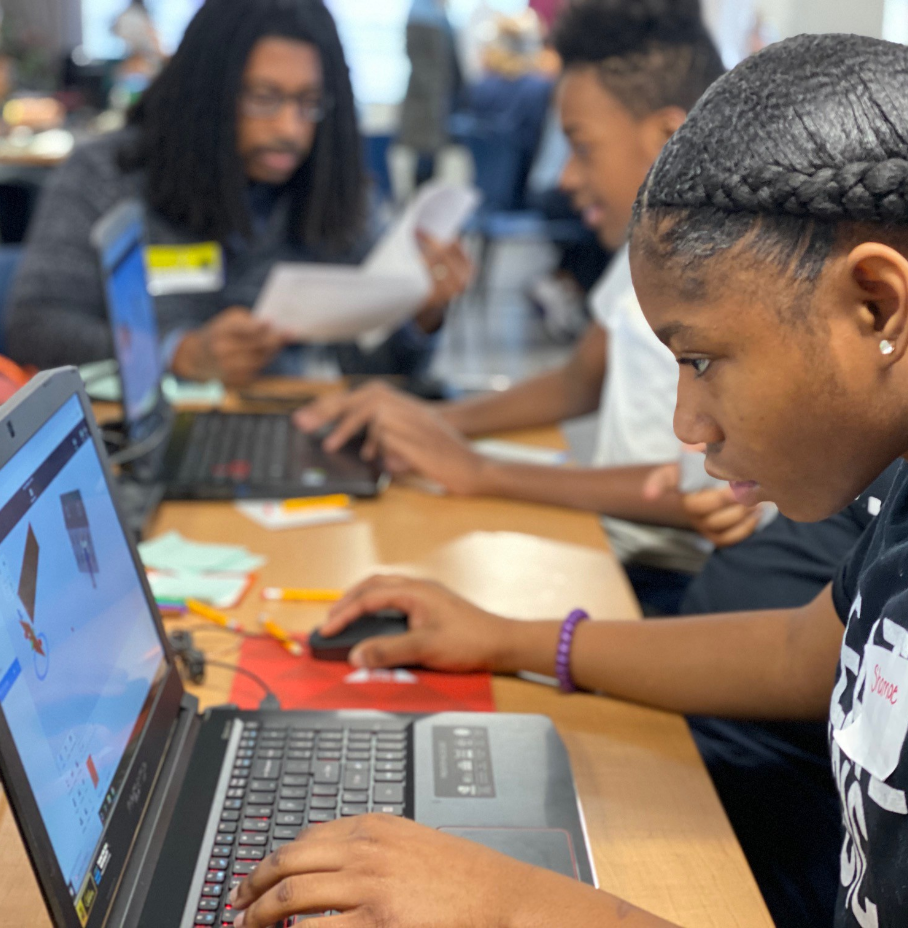 G4C Learn
G4C Learn programs and resources encompass the most impactful and effective tools and strategies for merging learning and education with games, game design, and play. The select programs highlighted below illustrate G4C's far reach and breadth of content, ranging from professional development to game jams and museum education.
Student Challenge
The G4C Student Challenge is a national game design program and competition in its 7th year that invites students to create digital games about issues impacting their communities. The Challenge is run in cities across the United States and includes professional development in game-based learning for teachers, in-school and after-school game-making courses; student game jams and workshops; mentorship by professional game designers, and social issue themes with multimedia content provided by cause-based partners. The program culminates in a game design competition through which students submit their original impact games and compete for prizes such as scholarships, technology, industry-related opportunities, and national recognition. Outstanding student work is showcased, and prizes are awarded during the celebratory  Award Ceremonies at the end of each school year.
Learn to think like a game designer and understand the basics of G4C's Intro to Game Design" curriculum. Check it out here.
LEARN MORE
Game Exchange
Games for Change, supported by the Stevens Initiative, is excited to launch Game Exchange — a virtual program for teens in the United States, Bahrain, Israel, and the United Arab Emirates. With the help of their teachers, teens from these four countries join in creative dialogue and collaboration around video games and game design. Over two years, the program will serve nearly 3,000 students and targets middle and high school-aged youth, with a commitment to reach underserved populations.
Learn More
Verizon XR Hackathon Program
In 2019 – 2020 G4C facilitated an XR hackathon for middle school students enrolled in Verizon Innovation School. These events fostered various 21st-century skills, including collaboration, creative problem-solving, communication, and design-thinking. Students worked in teams and used augmented reality (AR) and virtual reality (VR) technologies to conceive, design, prototype, playtest, iterate and showcase an original design around a given theme related to 5G technology.
Learn More
Educator Programs
Games for Change offers various workshops and professional development opportunities for professionals of all ages interested in game design, education, and social impact topics. Past workshops Include:
Game Plan
Game Plan is a ten-week program for educators empowering them to integrate games and play into community programs, schools, and afterschool settings by adapting methods and materials from the Games for Change Intro to Game Design Curriculum.  
The program, led by game designers and experts in game-based learning, provides a deep dive into the game design process and the power of games and play to engage youth in meaningful learning. Each year, national cohorts of cross-sector educators become experts in using games for good in their unique settings, forge a supportive community of practice, and walk away with all the tools and resources they need to set up courses and programs infused with games, design, and play.
Learn More
Teach with Unity Workshops
Games for Change and Unity partnered up for a series of workshops to empower educators to build the next generation of lifelong creators in real-time 3D development. During the Games for Change/Unity Technologies workshops, educators:
Explored how educators can use, mod, and develop games for change using Unity
Learned best practices and approaches for teaching, learning, and assessing work in Unity
Developed an understanding of real-time 3D development and the possibilities for students with these skillsLearned best practices and approaches for teaching and learning Unity.
Received hands-on experience in the Unity editor by creating a project