Games for Change's (G4C) Game Exchange is a virtual exchange program for teens in the United States, Bahrain, Israel, and the United Arab Emirates in which teens from the four countries join in creative dialogue and collaboration based on a shared interest in video games and game design.  Students join with peers from other countries to form "game studios" and collaborate virtually to create games, facilitated by classroom teachers trained in G4C's game design curriculum. Each year, participants submit game projects to the Game Exchange competition, with finalists and winners acknowledged at a culminating awards event. Over two years, the program will serve nearly 3,000 students, targeting middle and high school aged youth, with a commitment to reach underserved populations.
WHY GAME DESIGN?
Game Exchange connects with students' passion for video games, and uses game design to advance STEAM learning, promote acquisition of key 21st-century skills (such as collaboration, communication, systems thinking and problem solving) and encourage global citizenship through digital storytelling. By designing games on issues that matter to them, students become informed creators of media and active change makers in their communities.
Games are universally popular. As we strive to make connections between youth around the world, from differing backgrounds and cultures, a love of games and an interest in the digital tools that creators use to make them, can provide meaningful common ground.
WHY VIRTUAL EXCHANGE
Virtual Exchange employs technology to connect students in different countries and provide meaningful international experiences that help youth gain global competencies, develop key 21st century skills and acquire important knowledge needed to thrive in today's increasingly interconnected world.
WHAT THE PROGRAM OFFERS:
👩‍🏫 TEACHER TRAINING to build capacity for educators to use game-based learning in their classrooms and participate in a structured virtual exchange program.
🎮 GAME DESIGN COURSES to teach youth to design and code games, build 21st century skills and gain exposure to career pathways in the games industry.
🌎 VIRTUAL EXCHANGE to cultivate cross-cultural dialogue and build global competencies required for success in today's increasingly connected world.
🌐 SOCIAL IMPACT THEMES to empower the next generation of global changemakers and inspire youth to address issues in their local communities and on the world stage.
🤝 PROFESSIONAL MENTORSHIP to expose students to career opportunities and pathways in video games, technology and related industries.
🕹 STUDENT GAME JAMS & ARCADES to help students hone their game design and coding skills, and showcase their original team work within their local community.
🏆 ANNUAL GAME DESIGN COMPETITION to motivate students to create social impact games, and award outstanding work with prizes and international recognition.
📈 ALUMNI ENGAGEMENT to build a community of international, next gen game designers, share access to skill-building and career opportunities, and offer near-peer mentoring opportunities for youth currently enrolled in the program.
PROGRAM TIMELINE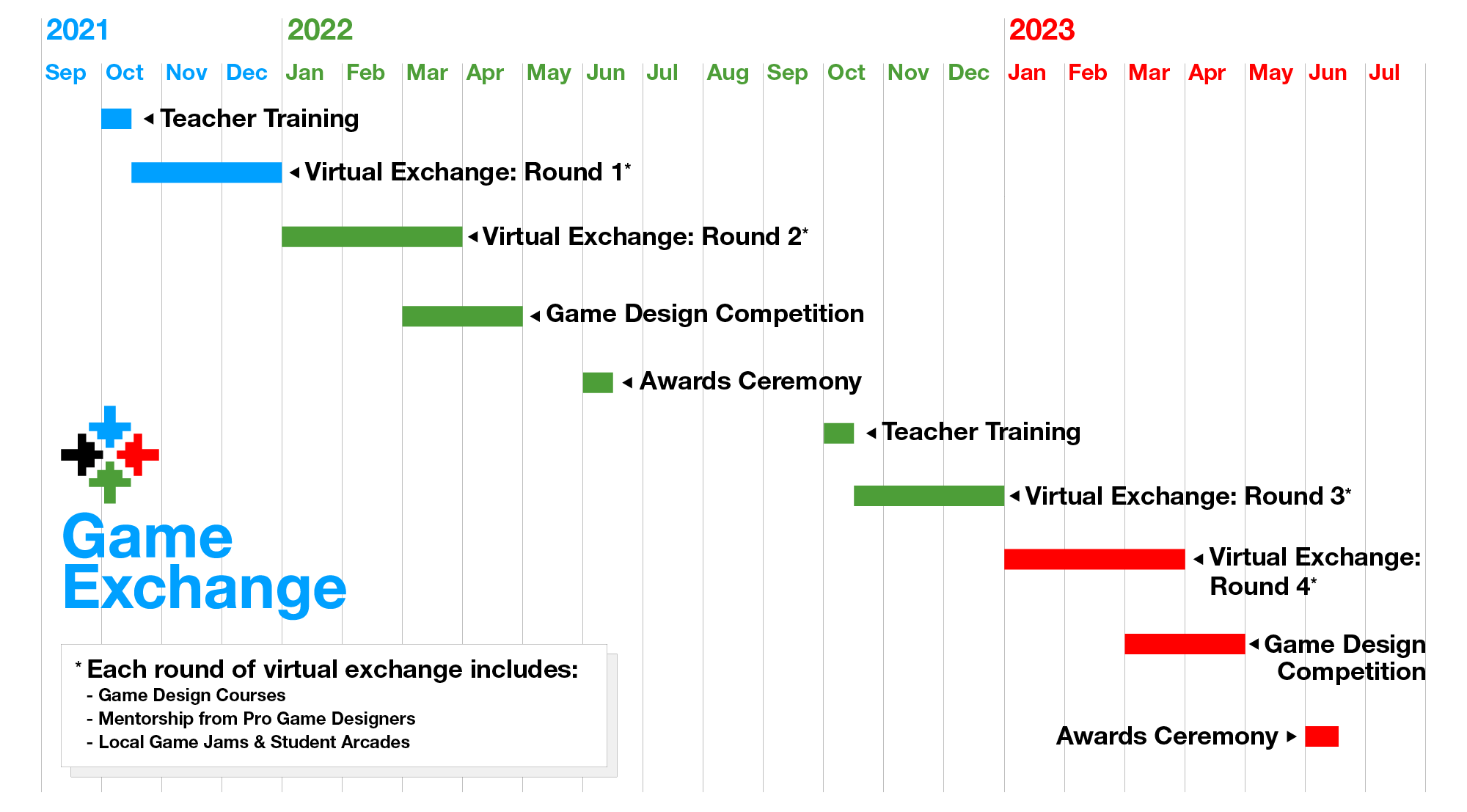 Game Exchange Mentors
Experts from the games and technology industries will play an important role in Game Exchange, sharing knowledge, skills and feedback with students enrolled in the program. Mentors engage directly with students through a range of opportunities, including conducting class visits, participating in hackathons, sharing skill-build and career-exploration videos and providing ongoing feedback on students' games.  Ultimately, participating mentors will help students build new skills, develop their creative voices, stay engaged in the game design process and understand how their coursework relates to real-world opportunities and careers in their local region and around the world.
Have questions or interested in becoming a mentor during the upcoming school semester?
Please email us: [email protected]