Creating History with HistoryMaker VR
October 20, 2020 / by Dwayne Waite, Jr., Marketing Manager at Schell Games
Using innovative technology like virtual reality (VR) in classrooms is an exciting prospect. The fact that virtual reality can help students feel, empathize, and connect with material and concepts should give educators pause to consider how they can implement this technology in their curriculum. The true value of VR is its ability to immerse the user in another world and provide an engaging learning experience.
One such experience making an impact on education is HistoryMaker VR, an immersive content creation tool aimed at middle schoolers to help them learn history, while encour­aging retention and active learning. Choosing from eight diverse char­ac­ters in U.S. history including Benjamin Franklin, Harriet Tubman, and Sonia Sotomayor, learners can upload a speech, prep their stage with a variety of props and set pieces, and record them­selves in character. At the end of the recording, learners can export the video files to be shared with their teachers and class­mates. In addition, educators have access to Classroom Resources that help them easily integrate this tool into their lesson plans.
Using VR in the Classroom
So why should educators consider using VR in their classrooms, in general, and HistoryMaker VR, specifically? Schell Games CEO Jesse Schell spoke about designing VR games for education during the 2020 Games for Change Virtual Festival. Here are his four tips on making VR work in education, paired with how HistoryMaker VR is built and ready for the classroom.
Tip #1: Use the body. Virtual reality excels at taking players to a different place, being near someone or even being someone else. Unlike consoles, VR invites players to use their hands and interact with their environment.
HistoryMaker VR allows learners to embody one of eight prominent figures in U.S. history. While in character, they can set their scene, gesture, pick up books and props, and much more. The physicality of the experience provides learners with an opportunity to completely immerse themselves in the setting and character, making learning more compelling.
Tip #2: Use VR as a creative tool. VR is at its most powerful when players are provided the tools necessary to create something of their own.
HistoryMaker VR is built for content creation. While the tool comes with sample scripts and quotes, learners are encouraged to upload their own content and experience what it is like to "be" a historical figure. There are sets and props which allow learners to create a performance unlike any other. There is even a green screen option where they can add their own backdrop after exporting the video, providing another way for learners to express their creativity.
Tip #3: Design for teachers AND students. Students need to be excited and engaged with the content and technology, but teachers must view the technology as accessible and enriching.
HistoryMaker VR is built for today's classroom with input from today's learners and educators. Its desktop complement solves the teacher's concern for classroom management. A simple desktop folder structure is enabled for easy use, and 'buddy controls' are available for the teacher to help the learner in VR if they need assistance in setting up or finishing their performance. Throughout HistoryMaker VR's development, it was tested by educators, students, and subject matter experts to ensure the experience was fun, useful, and accurate.
Tip #4: VR should fulfill an educational fantasy. When completing an assignment, what does the learner wish they could do? How does the experience draw them closer to the curriculum or activity at hand?
HistoryMaker VR creates an environment where the learner can imagine being that character. They don't have to dress up and present in a classroom, but they are presenting as that character, with props, and in front of a scene, and they get a chance to share that character's experience.
HistoryMaker VR Is for Students and Teachers
HistoryMaker VR is a content creation tool, which learners can use to embody eight characters throughout U.S. history, from Founding Father Benjamin Franklin to current U.S. Supreme Court Justice, Her Honorable Sonia Sotomayor.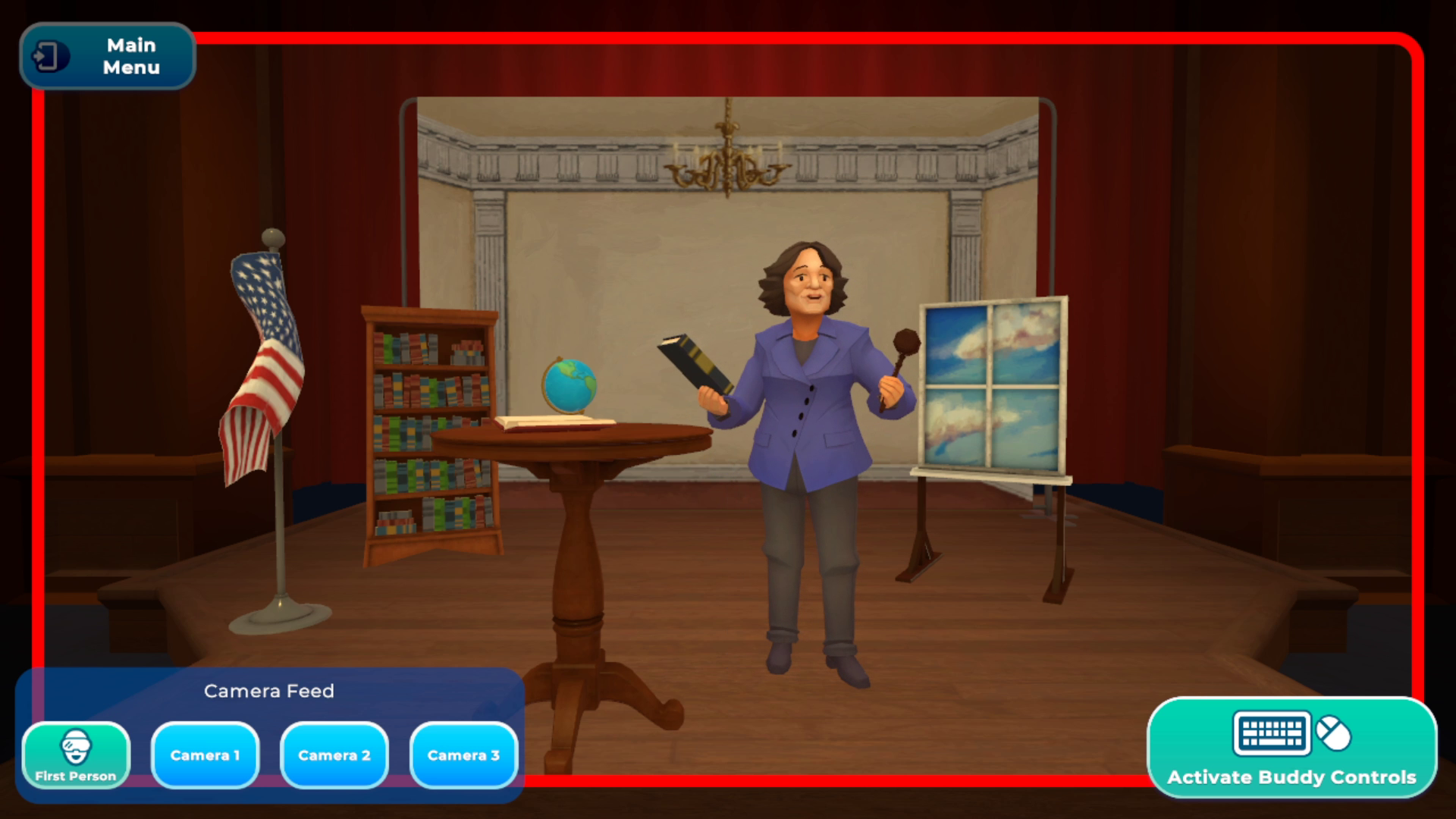 Students can use the sample scripts already uploaded in the tool to get familiar with all the features, or they can upload their own scripts to perform as the historical figure of their choice. Using the desktop complement, educators can manage different classrooms, groups, and assignments, along with the ability to upload prompts for the learners to address.
Plan, Perform, and Publish Your Work
How does a learner set up their performance? It's simple. First, put on the VR headset (compatible with the Oculus Rift/Rift S). Then, set the stage. There are multiple scenes, props, and backdrops learners can choose.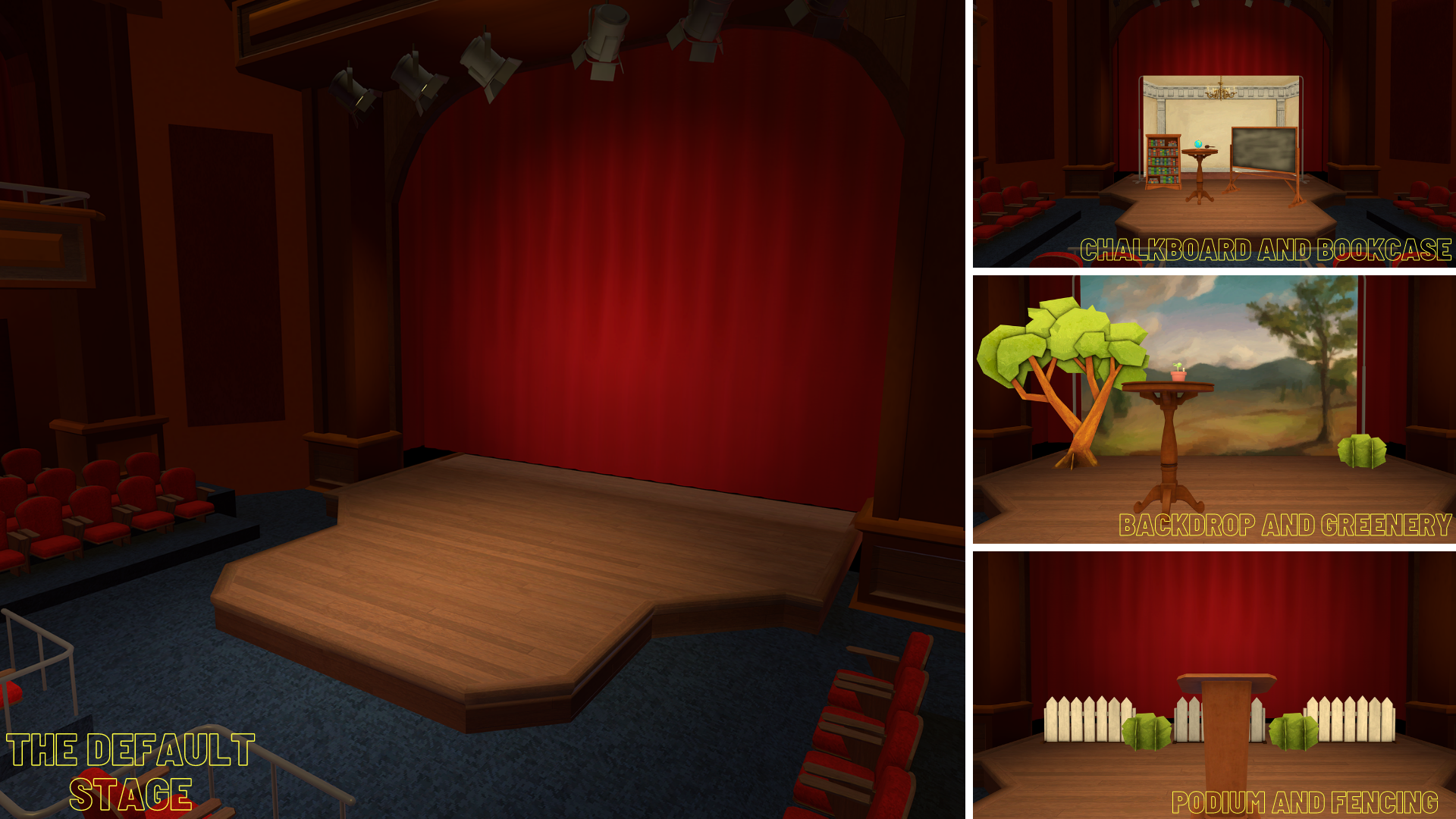 Once the stage is set and the character is chosen, the learner and soon-to-be performer picks props for the character. For instance, if they chose to be Mark Twain, perhaps a book and bookcase might be suitable for the performance.
Then, it's showtime! The learner can read from the teleprompter only they can see, and use their script and controls to start the performance.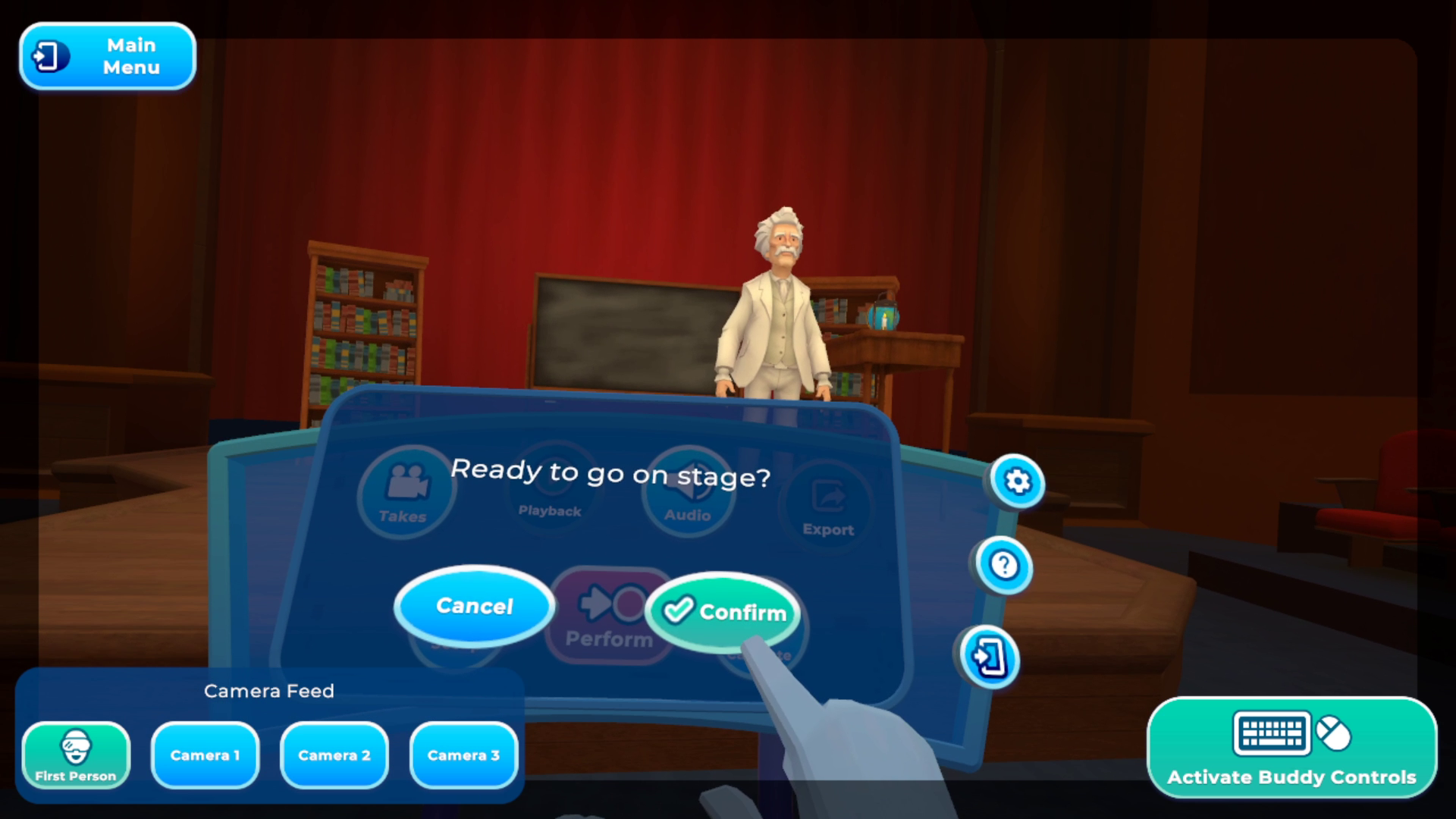 Once the learner is done performing, they can watch their performance while they are still in VR. If they feel another take is necessary, it is simple to record again. Once the learner has a video that they like, they can export it to their PC and edit it, if needed, using their favorite video editing software.
HistoryMaker VR Is Free for Everyone
We are happy to announce that HistoryMaker VR is now available for free for everyone on the Steam store. As long as you have an Oculus Rift or Rift S, you can create history, no matter where you're learning. To go deeper, check out the HistoryMaker VR website or watch this video.