G4C's First HBCU Partnership Supports Gathering Research on Virtual Reality Storytelling for Impact
March 27, 2023 / by L. Michelle Salvant
XR for Change (XR4C) supports the rapidly-growing sector at the intersection of immersive technologies and impact. The XR4C team aims to foster authentic collaboration and partnerships through diverse and equitable practices. Through XR4C's research using the G4C executive-produced virtual reality documentary on nuclear threat as a case study, G4C completed its first partnership with a Historically Black College or University (HBCU) – Florida A&M University's School of Journalism & Graphic Communication (SJGC). 
Throughout 2022 – early 2023, On the Morning You Wake (to the End of the World) was used for research conducted across a series of screenings – including one with Florida A&M University's SJGC program. This February activation was an integral component in gathering data for the soon-to-be-released G4C white paper titled "Best Practices in Presenting Virtual Reality for Informal Learning and Audience Engagement," which will be widely distributed to inform the VR creator community and related stakeholders on best practices for using VR for informal learning and audience impact. 
Working with Florida A&M University's SJGC in this capacity underscores the presence and contribution of Black women and BIPOC creatives in the immersive tech space. This guest blog features an interview with L.Michelle Salvant, Founder and Chief Creative Officer of LMichelleMedia – an Emerging Media & Technology Company, offering a first-hand account of producing an On the Morning You Wake activation alongside XR4C, as well as an industry-based reflection on Black creatives within emerging media and immersive storytelling.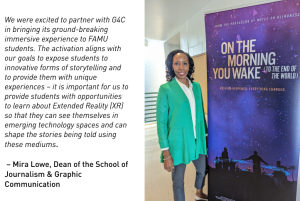 Can you please introduce yourself to your G4C community?
My name is L.Michelle Salvant – the Founder and Chief Creative Officer of LMichelleMedia Company. I'm also an Alum of Florida and A & M University and hold a Bachelor of Science in Broadcast Journalism for the School of Journalism and Graphic Communications.
Tell us about the department and the energy surrounding immersive technology from students and faculty.
The School of Journalism and Graphic Communications has always been interested in Emerging Media and Technology and has been very eager to learn more about it. A couple of years before the pandemic, we partnered with the School and its Knight Foundation chair to bring diverse Virtual and Augmented Reality leaders to the School to host a boot camp on 360 Filmmaking and making Augmented Reality assets. From there, almost every year thereafter, the School has worked with us in some capacity to bring workshops and or experiences to students to help them explore new ways to tell stories.
How does it feel knowing your work and facilitation helped create the first HBCU activation partnership for G4C?
It feels incredibly gratifying…considering this is the work and the outcomes we have been passionate about for years. We believe it boils down to access, and having access or exposure to these new ways of storytelling will ultimately produce a new generation of storytellers. I feel it's essential for FAMU students and students at HBCUs, in general, to be among that group of pioneers.
This event was integral in completing our upcoming white paper using On the Morning You Wake (to the End of the World) as a case study to produce a series of best practices for using VR as an informal tool for learning and audience impact. What takeaways or reflections were shared with you by participants?
The participants were amazed at how the Immersive medium could provide such a sense of presence and connection to the story. Many of them remarked how they felt like they were there or felt they had more of an emotional link to the story after experiencing it in Virtual Reality. Some students also said the story made them feel somewhat sad about the destructive nature of nuclear weapons. This was not on their mind before, but it's now something they say they won't forget.
Tell us more about your work. How can black creatives utilize emerging media and immersive storytelling as tools for cultural expression or informal education?
I've worked in the Immersive Storytelling space since the end of 2016. My very first VR Experience followed the story of a Black Woman Pastor who had been diagnosed with Breast Cancer. She agreed to let me film her surgical journey to remove cancer before and after. This represented an amazing breakthrough for the type of storytelling we specialize in, which is Stories and Faith and the African American Experience. There were literally lines of people who wanted to see that experience once it was completed, and it was also featured as part of a conference at Oral Roberts University.
From there, we produced a film called "The Rattler," surrounding the Florida A&M University Marching 100…which featured a young woman who would later become the School's first female drum major. The piece was later recognized for innovation at the People's Film Festival in Harlem, New York. Both these pieces showed me the power of using tools like these to bring people into an experience.
From a cultural standpoint, I find this to be priceless, considering many times people find it challenging to understand our struggles or what Life is like from our perspective. This is where informal education comes in. Sure, I could formally tell you what Life is like for me, but what you learn about me from experience will have a much more significant/lasting impact. I will continue to use these tools for this type of expression, as is evidenced by my latest project, which is a 10-year observation of Life, a Life Film, being captured using Smart Glasses. The footage is compiled in a collection of Immersive Journals, which use Augmented Reality to bring each year, captured in this way, to Life. To relive Life in this way, using this type of technology has been informative and transformative all at the same time.
G4C's deepened commitment to cultural diversity is part of its longstanding goal to advance and improve equity and justice on a global scale. Through this partnership between G4C and FAMU, a path has been paved for ongoing collaborations and meaningful engagements between G4C and the HBCU community at large.
Want a copy of the white paper and impact report? Make sure you subscribe to the G4C newsletter to receive it first and have this research delivered to your inbox.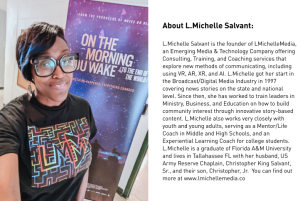 About FAMU School of Journalism & Graphic Communication:
As the first accredited program of its kind among the nation's historically black colleges and universities, the School of Journalism & Graphic Communication (SJGC) sets the standard in both fields. Since its founding in 1982, SJGC consistently receives high marks for the quality of its graduates. Students have earned awards and honors for their work on multiple media platforms from the Academy of Television Arts and Sciences College Awards, the Associated Press, CNN, the coveted William Randolph Hearst Medallion, and numerous other entities. For more: https://sjgc.famu.edu/