Lost Recipes: Increasing Impact with Accessibility Features
February 23, 2023 / by Schell Games
This guest blog post is written by Schell Games. 
Over the past 20 years, Schell Games has published multiple titles that entertain, educate, and transform. From a VR chemistry lab practice game to helping emergency room doctors better understand the nuances of triage, we are passionate about developing experiences that make the world a better place. Creating transformational games that resonate with people and affect meaningful change takes a lot of time, hard work, research, and testing. Gameplay, game mechanics, narrative, storytelling, environment, and pacing all work together to create transformative experiences, and one element that is essential to the overall experience is accessibility. 
Accessibility considerations, or lack thereof, can make or break the player experience, and it goes beyond difficulty settings or localization. As such, accessibility is an integral part of Schell Games' development process, and it all starts with a spreadsheet we call the Accessibility Matrix. This document is based on years of work completed by the Schell Games team. It breaks down accessibility into goals that are placed into nine distinct categories. This tool helps our team be intentional about adding accessibility features into core gameplay before we start work on the game.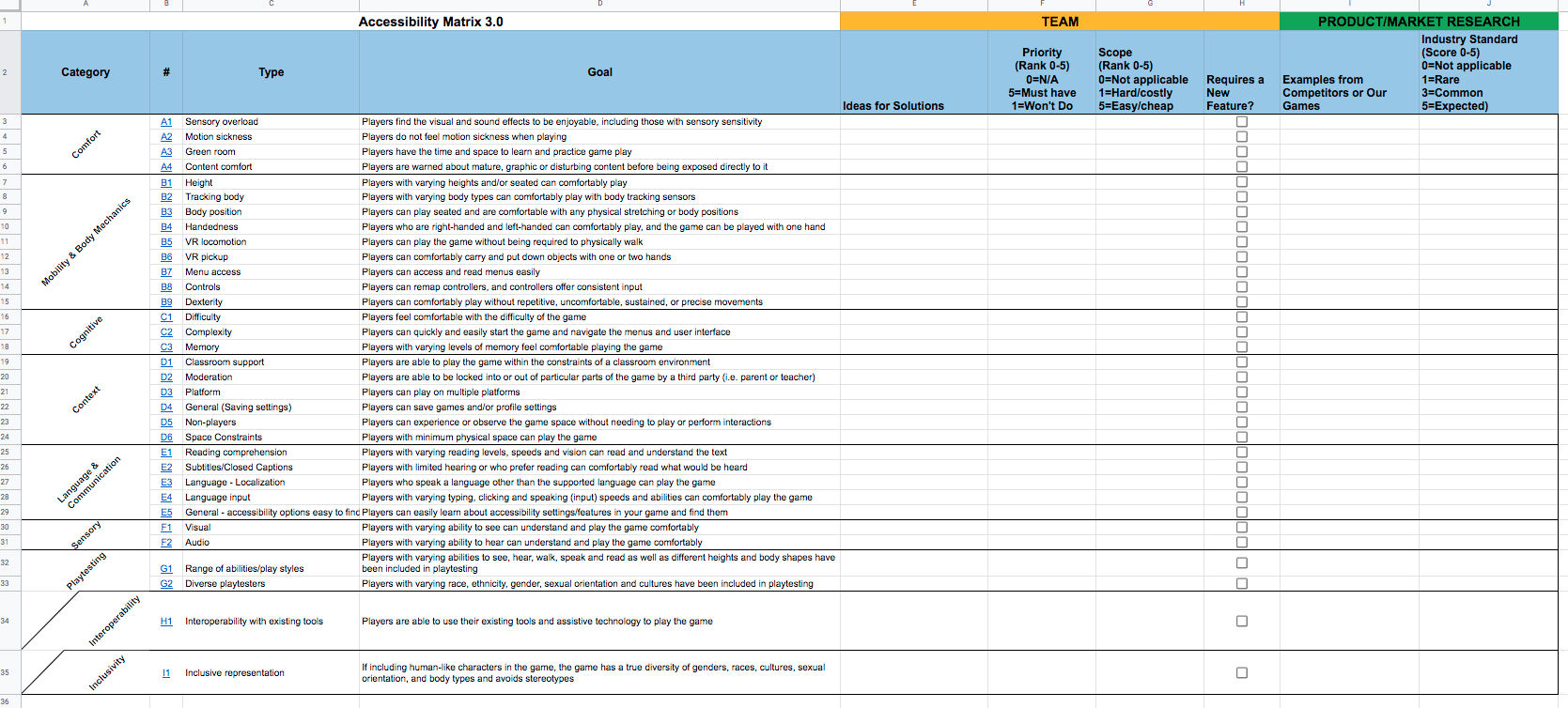 In January 2022, we released Lost Recipes — a relaxing VR cooking simulator that places players in the heart of historically-accurate kitchens to cook for ghosts from ancient Greece (400 – 500 BCE), Song Dynasty, China (960 – 1279 CE), and the Yucatan Peninsula, Maya (1500 – 1600 CE). These ghosts long to pass on the traditional recipes of their favorite dishes, and players use authentic ingredients, utensils, and techniques to recreate tasty dishes as culinary tourists.
We knew we would have to balance accuracy with accessibility when it came to players cooking in kitchens across time. To that end, we focused on three primary accessibility considerations for Lost Recipes: ease of movement, supporting one-handed play, and in-game player feedback. These three ingredients helped us ensure anyone who wanted to cook for ghosts could do so. 
Moving Around In Historical Kitchens
When it comes to VR titles, locomotion, or how players move in the game, is tied to the degree to which a player may experience motion sickness. In Lost Recipes and all of our VR games, we take great care to ensure motion sickness is not a side effect. For this game specifically, we also considered how a player could or couldn't move in a virtual kitchen.
First, we made sure players could enjoy Lost Recipes whether they were sitting or standing. We also provide them with multiple ways to move around the kitchen. The game supports teleporting — a motion sickness-safe form of "large" movement where players can immediately jump to a different part of the kitchen — and allows players to "grab" counters and fine-tune their positions in the game. Players can use a "drag" motion to adjust the counters to a comfortable height. The grab and drag motions are especially useful for someone who is playing while sitting down.
Supporting Cognitive Diversity 
People absorb and retain information differently, so we wanted to ensure Lost Recipes supported cognitive diversity. Our focus on this area was a big reason we decided to make Lost Recipes a relaxing, slow-paced cooking experience that rewarded a player for taking their time and getting things right versus rewarding speed and dexterity. 
This approach informed our choice to build multiple methods for players to get the instructions they need to progress in Lost Recipes. All of the recipes in the game are provided verbally (from the ghosts) and in writing with images on the recipe tablet. Unlike many other cooking-focused games, Lost Recipes does not require memorization or the need for mental agility. 
As players complete recipes, we had to find multiple ways to let them know they were doing things correctly. Of course, there were audio cues, but we wanted to support players who may be hearing impaired. So, we added visual cues like swirls when marinating/mixing and adding sparkles when players poured or measured the right amounts of ingredients. Every event in the game with sound also has an accompanying visual effect. Lost Recipes is also color-blind-friendly. 

Accessibility Powers Impact 
It's worth mentioning that accessibility features end up being used by many more players than those we had in mind when designing them. Think of how often you adjust the volume on something or turn on the subtitles. Though now widely adopted across multiple media, these are accessibility features. When transformational games are intentional about accessibility features, it is easier to meet players where they are and help them experience change.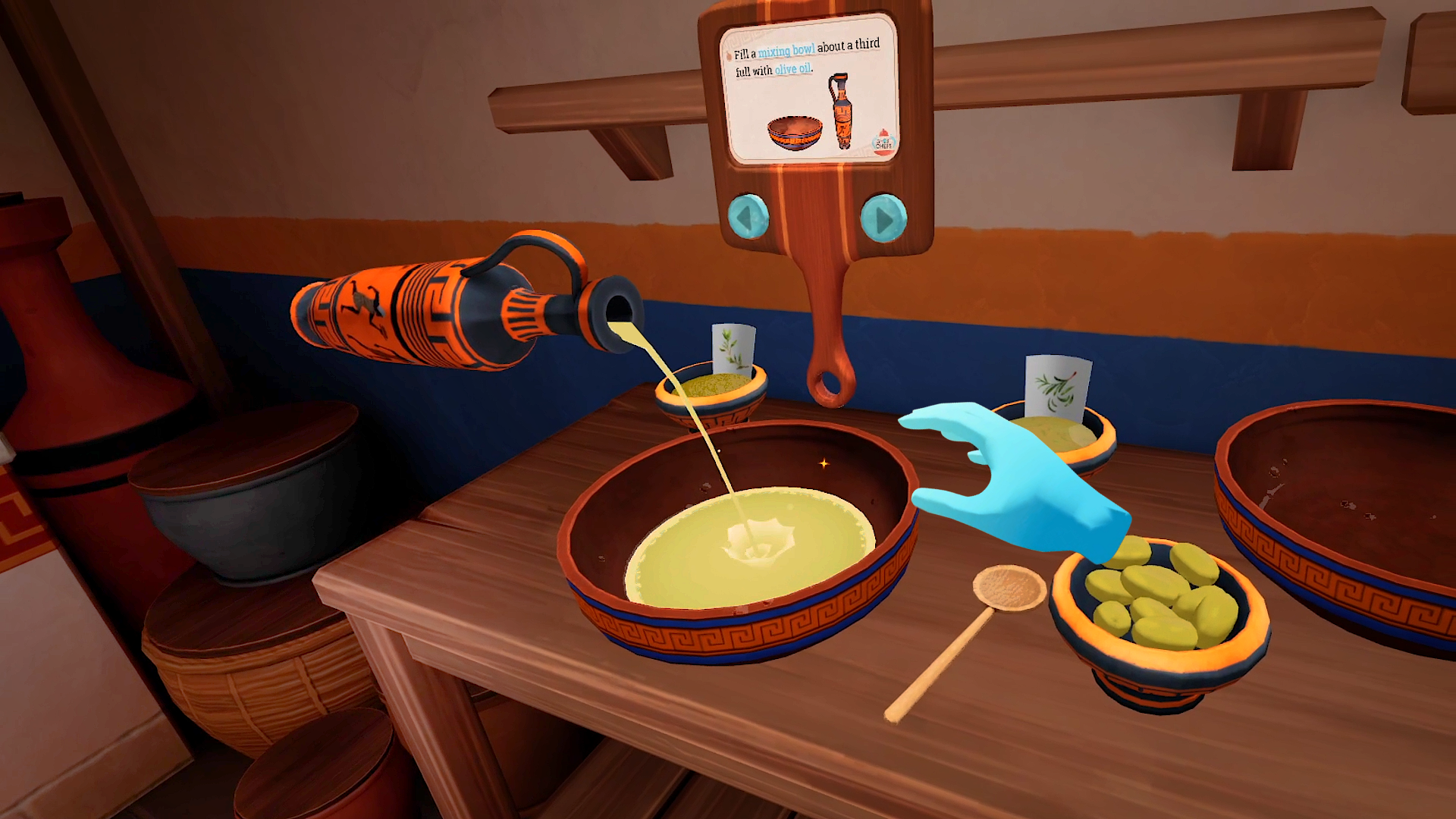 Experience Lost Recipes
Lost Recipes is available on the Meta Quest store. We're celebrating the one year anniversary of  the game's launch so we recently dropped the price from $14.99 to $9.99 to make this historical cooking experience more accessible to players across the globe. We also have a companion recipe book for chefs who want to try their hand at whipping up some multicultural dishes in their own kitchens. Visit the Lost Recipes website to learn more.