🌴An Island of Games at Play NYC
August 28, 2019 / by Cassie Baralis
On August 10th-11th, Games for Change, with the generous support of the Bigglesworth Family Foundation, was lucky enough to participate in Playcrafting's third annual Play NYC. Playcrafting is an NYC based company that empowers the game development community through events and education throughout the US. We debuted our 🌴Games for Change Island 🌴 which included ten games total– seven from our 2019 Games for Change Awards and three winners from our 2019 NYC Student Challenge.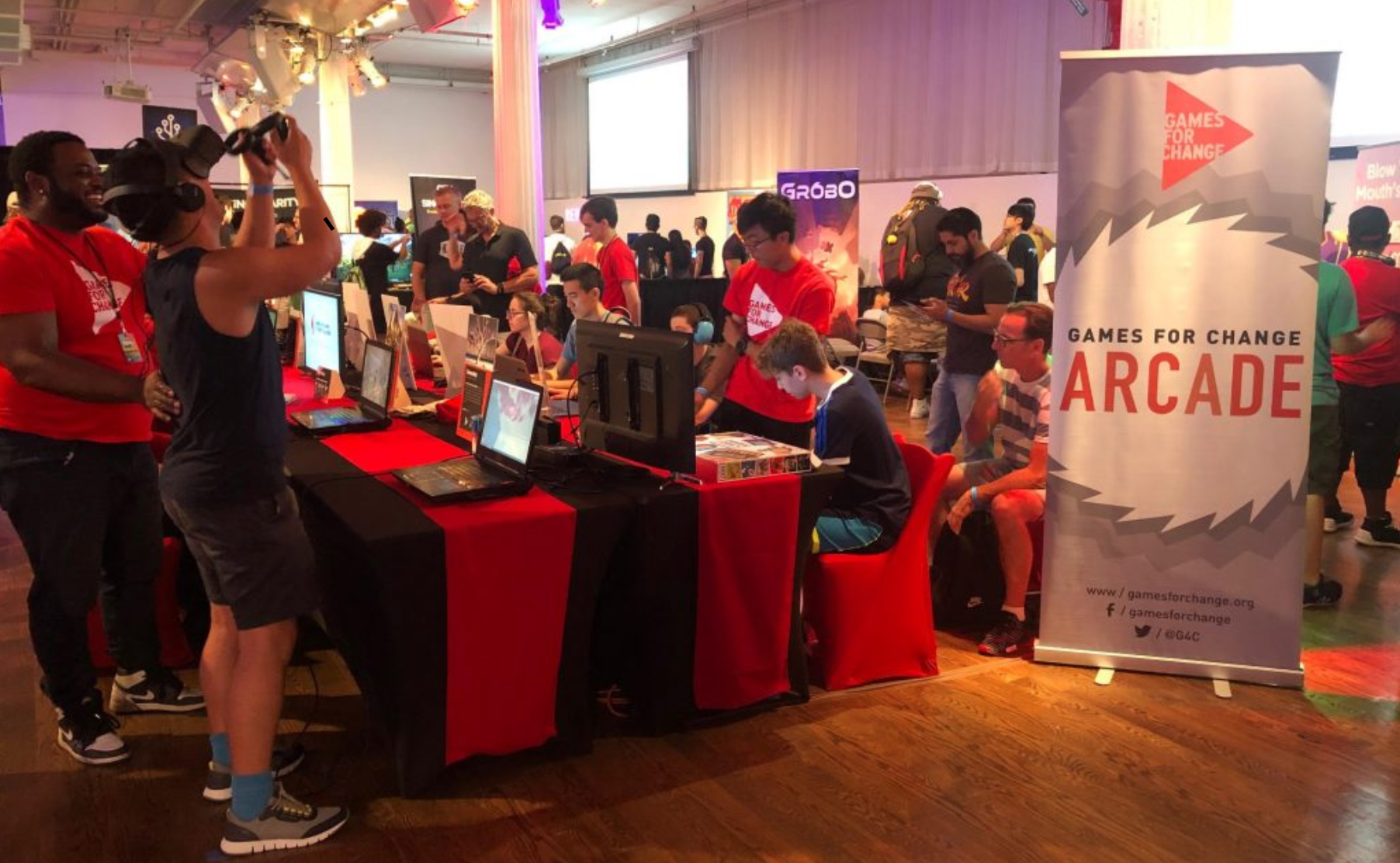 The 🌴Games for Change Island 🌴 was in the heart of the show floor, and featured a wide array of games ranging from AAA educational adventures to indie titles and also our collection of winners from our NYC Student Challenge Program. While most games showcased at the event were purely created for entertainment, we hoped to shed light on some recent examples of games that could be leveraged for positive social impact.
Children and families flocked to our Nintendo Labo exhibit, where they could build various interactive cardboard pieces like a piano, a fishing rod, and a motorcycle. Tender Claws' Tendar, an AR experience using the camera of a smartphone, recognized and ate players' different emotions. UNICEF's Kid Power incentivized everyday activity by turning it into lifesaving food for over 16 million severely malnourished children around the world. A discovery tour of Ubisoft's classic Assassin's Creed allowed players to free freely roam in a full 3D recreation of Ancient Egypt without combat, story or time constraints. Prism, by Yidi Zhu, Dan Wolpow, Ridima Ramesh, Yutian Zheng, and Xueyang Wang, promoted autism acceptance among elementary school children. Nomada Studio's Gris lets you play as hopeful young girl lost in her journey of sorrow in a faded reality. Throughout the weekend we were also excited to introduce many people to their first VR experience, Homestay, a beautiful piece about cultural immersion funded by the National Film Board of Canada.
Our three Student Challenge games dealt with themes from our 2018-2019 program and featured winners from our NYC Envision Gender Equity, Diversity & Inclusion, Endangered Species and Automated Communities categories. In On Thin Ice! by Benicio L., Thomas C.,  and Anthony C. from The School of Interactive Arts, you play as an emperor penguin dealing with the effects of climate change. The Issue With Gender Equality in STEAM, by Lillian M. from M.S. M245, The Computer School, was a text based game which dealt with gender divide in her school's STEAM lab. Finally, PacifAI, by  Larissa F. from The School of Interactive Arts, focused on a developing city in the midst of a technological revolution where an AI flies around a to improve people's mental and physical well-being. We were very lucky to have Larissa, Benicio, Thomas, and Anthony at our space discussing their games with the public, and happy to have invited them to showcase at their first games convention.
Play NYC also featured multiple friends and former collaborators of G4C, especially in their Graffiti Games initiative. The 2019 "Graffiti Games: Play on Pride" program was presented by the support of the Bigglesworth Family Foundation. Ayla Myers, Independent Game Designer & Developer at Castle Games, showed her game Staring Can Be a Form of Harassment, featuring a booth full of human sized sculptures full of eyes created by visitors of the booth staring at you. One of our former Student Challenge winners and Student at NYU's Game Center, Geneva Heyward, was showing off their game Rebel Runner, an exciting mash up between a 'choose your own adventure game' and an infinite runner. Rogue Fong, an independent developer specializing in XR Games & Immersive Installation Design, showcased  an immersive VR experience on vulnerability and coming out.

Over the two days of  the convention we were able to meet and reconnect with so many people in the gaming industry, and people outside of the industry who were just very passionate about gaming.  Play NYC was able to showcase such a diverse and inclusive range of games and exhibitors. We're looking forward to 2020 to share more of the wonderful games in the social impact gaming space, our Student Challenge initiative, and to see what amazing things the NYC gaming community does over the next year!
Thanks to Dan Butchko, the Playcrafting team and all the developers at Play NYC in addition to Sinjin Bain, and the Bigglesworth Foundation for supporting our installation and providing passes to our Student Challenge participants!