James Shelton, U.S. Department of Education
Day: Tuesday, June 21
Start time: 2:00pm
Until: 2:45pm
Venue: Skirball Center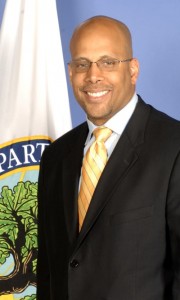 Jim Shelton is the Assistant Deputy Secretary for Innovation and Improvement, managing a portfolio that includes most of the Department's competitive teacher quality, school choice and learning technology programs, housed in the Office of Innovation and Improvement.
Previously, he served as a program director for the education division of the Bill & Melinda Gates Foundation, managing the foundation's national programs and work in the northeast region of the United States. Shelton has also been a partner and the East Coast lead for NewSchools Venture Fund and co-founded LearnNow, a school management company that later was acquired by Edison Schools. He spent over four years as a senior management consultant with McKinsey & Company in Atlanta, Ga., where he advised CEOs and other executives on issues related to corporate strategy, business development, organizational design, and operational effectiveness. Upon leaving McKinsey, he joined Knowledge Universe, Inc., where he launched, acquired and operated education-related businesses.
Shelton holds a bachelor's degree in computer science from Atlanta's Morehouse College as well as master's degrees in business administration and education from Stanford University.
Shelton currently resides in his hometown, Washington, D.C., with his wife, Sonia, and two sons, Justice and Jameson.
You can view James Shelton's full presentation here.