Closing Keynote: Jesse Schell
Day: Wednesday, June 22
Start time: 4:15pm
Until: 5:15pm
Venue: Skirball Center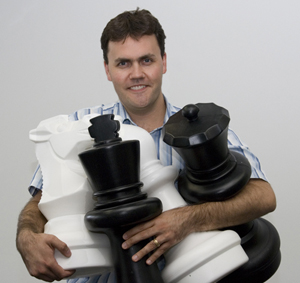 Prior to starting Schell Games in 2004, Jesse was the Creative Director of the Disney Imagineering Virtual Reality Studio, where he worked and played for seven years as designer, programmer and manager on several projects for Disney theme parks and DisneyQuest, as well as on Toontown Online, the first massively multiplayer game for kids. Before that, he worked as writer, director, performer, juggler, comedian, and circus artist for both Freihofer's Mime Circus and the Juggler's Guild.
Jesse is also on the faculty of the Entertainment Technology Center at Carnegie Mellon University where he teaches classes in Game Design and serves as advisor on several innovative projects. Formerly the Chairman of the International Game Developers Association, he is also the author of the award winning book The Art of Game Design: A Book of Lenses. In 2004, he was named one of the world's Top 100 Young Innovators by Technology Review, MIT's magazine of innovation. His primary responsibility at Schell Games is to make sure everyone is having fun and creating beautiful things.
More of Jesse's information can be found on his website: www.jesseschell.com.
You can view Jesse Schell's keynote in full at the Games for Change Vimeo page.